I am German and I studied ten years of piano classes and four years of singing classes in a musical college in Cologne. To acquire an academic education I moved to northern Germany and graduated from cultural studies in Lüneburg, followed by eight years of living and working in Hamburg. Working in the music business as a public relation manager for lifestyle brands opened unexpected doors for me. In my private life, I was once on stage singing with Michael Buble, in business I was travelling to Mauritius to run the Royal Raid or showing the Maldives for journalists, and so much more…
I am grateful for these times, but to be honest, this was not the life I wanted to live.
I have been to New York, Costa Rica, Cuba, Dominican Republic, Gran Canaria, all over Europe, Tunisia, Kenya, Mauritius, Maldives, India, Sri Lanka, Thailand and Tokyo. I had the chance to see different lifestyles and ways of living.
So at one point in my life I started to ask myself, where do I want live? What do I want to do with my life? I knew I loved living in a city but even more by the beach. How could combine the best parts of the two?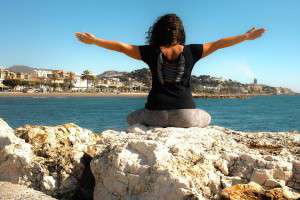 Until than, Malaga was not more than a yearly summer holiday destination for me. Now I started to learn Spanish and visit Malaga whenever I could. It took me a couple more years to finally step out of the comfort zone and go where the magic happens. In Malaga I found an inspiring yoga teacher and wanted to know more of yoga. She told me the type of yoga she was teaching is Hatha-Yoga Sivananda-Style, and after an internet research I was sure that this is the path I wanted to take. So, after practicing yoga for about a year, I went directly to India for my 200hrs Sivananda yoga teacher training. From the Sivananda Swamis I got the spiritual name Radha.
I travelled three months through India, learning about Hinduism and the yogic way of life, followed by one month in Sri Lanka and one month on the local Maldives. It was a journey of personal and spiritual growth. I was ready to share my experience in Hatha- and Bhakti-Yoga with Classes & Kirtan. My freelance job as a Tourguide in Spain and Marocco allowed me to spend more and more free time in Andalucía. The personal development continued and I joined a lot of yoga workshops, bhakti camps and festivals ever since. In 2016 I graduated my 300h Advanced Sivananda-Yoga Teacher Training in India. In 2017 I did my 23h Teacher Training with Kidding Around Yoga.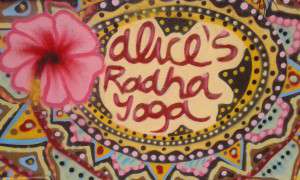 In 2019 I fulfilled my wish to be a Yin-Yoga-Teacher with a 50hrs Training in Andalucía. Funny enough my Homebase is Hamburg again. Here I offer a weekly Kirtan as well as Mantra-Yoga Teacher-Trainings and Mantra-Harmonium.
If you like to read more about my way of living between the city and off the grid, please have a look into my blog Málaga, Mantras and more
If you like to get in contact with me drop me a line: