The spirituel name Radha was given to me in 2011 by a Sivananda Swami during a workshop Sadhana in Andalusia. For the Mantra initiation I picked the Krishna Mantra Om namo Bhagavate Vasudevaya, because of the theme: universal love. The Swami meditates and shares the name that comes to him. I got Radha. It took some time before I realized what that meant for me.
Radha Krishna
Radha is in Hindu mythology, the eternal consort, Shakti and lover of Krishna. My spiritual name was the beginning of a way I've never dared to dream. My yoga teacher training led me in the same year to Vrindavan, the place where Lord Krishna grew up. There are no coincidences. Even on the road, people greeted with Radhe Radhe and I first came in contact with Bhakti-Yoga.
Bhakti-Yoga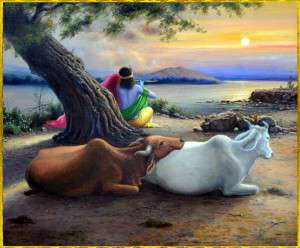 Bhakti-Yoga is the path of devotion or selfless love. An important component is the Mantra-Singing which pulled me from the beginning in its spell. Anywhere in Vrindavan you hear music and people recite mantras of Radha and Krishna, also in the Ashram of our training. An integral part of the yoga teacher training is the morning and evening Satsang with meditation and Kirtan, where I felt most comfortable. When someone asks me what was the most beautiful in India, it was the chanting for me.
Radha embodies the pious devotion Bhakti and the yearning of the human soul for God. Radha and Krishna are considered the classic lovers of the Hindu religion and play in all sectors of Indian art today an important role. Both together are one, ying yang, the female energy Shakti and the male energy Shiva. There are several ways to awaken Kundalini energy, oneness, universal love. Chanting the divine name is one of it.
Mantra and Music
I still remember the moment after a yoga workshop, I felt great, then we all made our way back into everyday life. I asked how can i carry on what i feel now forever. The answer was music.
Then I realized, that's all already there, I had to just accept. Music has been with me my whole life, my education included piano and singing lessons. With music I always felt most comfortable and singing makes me happy. Therefore, I want to open this path for others to share my experiences. So I started the end of 2014 with chanting Mantras nebst to my yoga teachings. Now Mantras are the biggest part of my Yoga-Practice. Back to my roots, to my true self. This is Radha.
Where to practise Mantra Yoga with me.
My Homebase is Hamburg with a weekly Kirtan and regular Mantra-Workshops. Check the calender for current dates and places. You can find all my event dates on Mantra-Singing & Kirtan with Alice Radha. If you like to contact me, please drop me a line: